CAMERA CREWS AND PRODUCTION SERVICES
Popular Pictures – for more than 10 years we have been a reliable service production partner for international broadcasters, production companies and corporate productions in Spain and worldwide. We work for international news networks, television stations, production companies, advertising agencies, commercial productions, sports-programmes and corporate clients:  ARD, arte, CNN, CNBC, DISCOVERY CHANNEL, EBU, euronews, France 24, Kabel1, NDR, ProSieben, SAT1, RTL, WARNER BROS. Germany, 360º GEO Die Reportage, WDR, DHL, HUAWEI, Hewlett Packard, Microsoft, Intel, Deutsche Telekom, McKinsey, SANDOZ, Bayer-Healthcare, Novartis, Pfizer, REWE Group, Daimler, Volkswagen, Barcelona World Race, UEFA Champions League, Volvo Ocean Race, SEAT are just some of the names we have produced content for during the last 10 years. We are familiar with the shooting and production conditions in Spain (working in multinational teams) and follow the working procedures required and demanded by US and Northern European broadcasters. Our multilingual camera crews speak Spanish, English, Catalan and German. A strong, local network, well trained, friendly professionals, multilingual crews, local producers and fixers paired with top of the range professional equipment, German production management and also more than 10 years of servicing productions all over Spain are some of our (many) strengths.
Matthias is highly professional, quick and always knows what is needed by the producer and which picture best suits the story. Always willing to go the extra mile with a smile, Matthias is a pleasure to work with and an asset to any team.
Lena Rasmus
Senior Production Manager - Warner Bros Germany
We took very nice pictures with a drone over Mallorca. It was nice to see with how much commitment and know-how the colleagues did. Thanks a lot for this.
Michael Nussbaum
Producer at WDR (German public broadcaster)
I have repeatedly worked with Matthias in UEFA Champions League productions. Matthias is a skilled and professional cameraman.
Poul Gejel
Technical Operations Manager at TV2, Denmark
Reliable, useable and a pleasure to work with.
D. Fox
Director, Barcelona World Race documentaries on CNN
Really appreciated all the help and can hopefully work together again soon.
S. Conwell
CNBC International
The filming in Barcelona with Matthias Popp's crew was first-rate. A great team, fantastic pictures, incredible commitment. We shot TV features and got everything out of the story that we needed, from early in the morning to 11.30 at night - a long day, but as we got it all in the can we didn't need another day of filming.
Sabina Wolf
TV Journalist at ARD (German Broadcaster)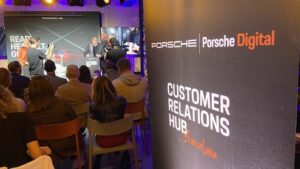 Bilingual Video Crew in Barcelona, Spain Producer and lighting Cameraman in Barcelona for Corporate Filming and lit Interview Production with Sony 4K Camera Equipment and DJI
Read More »
FROM A FOR ANDALUSIA… TO Z FOR ZARAGOZA​
Regardless of your location, whether it's Alicante, Almeria, Barcelona, Cadiz, Granada, Madrid, Malaga, Mallorca, Marbella, Murcia, Palma, Seville, Tarragona, Valencia or Zaragoza – benefit from Popular Pictures' years of experience in the country, an outstanding network at local level with endless resources.
Save an extra flight, hotel expenses, expensive excess luggage fees and unnecessary distress due to language barriers. Make the most out of your production time in Spain!
Our on-site experience, problem solving skills, professional crews and equipment guarantee a smooth and cost efficient running of your production in Spain.
If you needed to summarise in just one sentence everything that Popular Pictures stands for, it would be this: 
WE REALLY LIKE WHAT WE DO - AND SO DO OUR CLIENTS!