España, Alemania y resto del mundo
¡Nos sentimos muy afortunados!
¿Por qué? ¡Porque simplemente hacemos lo que sabemos hacer mejor!
Durante más de 10 años, nuestros equipos multilingües de profesionales dando soporte a producciones televisivas internacionales, productoras y agencias de publicidad, empresas y clientes corporativas en España y cada vez más, también en el resto del mundo.
We really like what we do -
and so do our clients!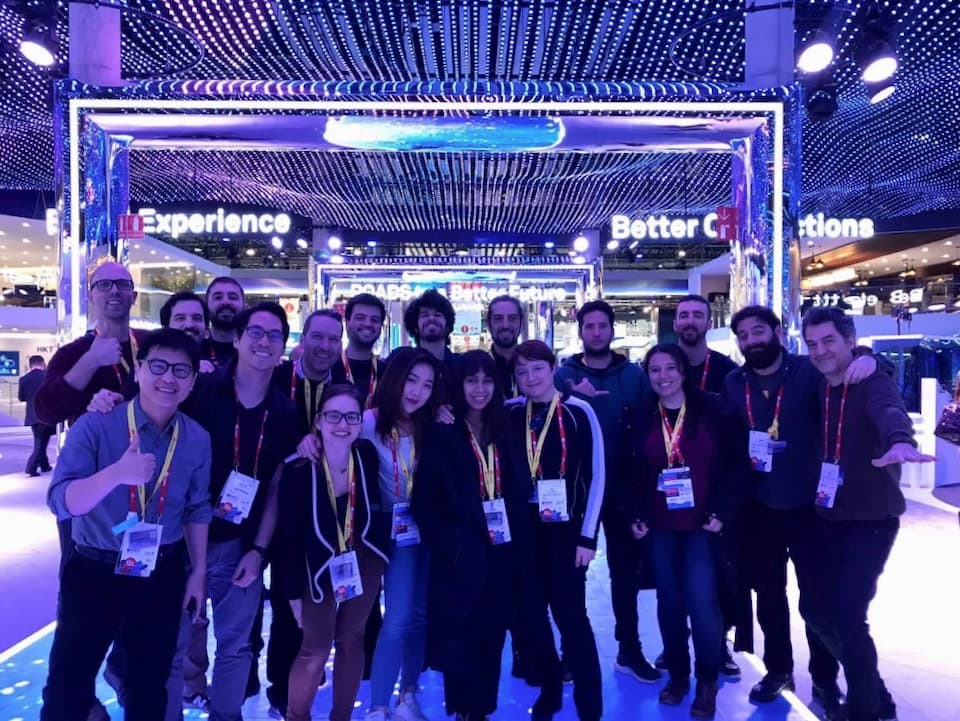 POPULAR PICTURES
Bilingual camera crews & production services
Popular Pictures – trabajamos desde hace más de 10 años para emisoras de televisión internacionales, productoras y clientes corporativos en España, Alemania y en el resto del mundo, convirtiéndonos en vuestro socio más fiable de producción audiovisual.
Colaboramos con cadenas internacionales de noticias, televisiones, productoras, agencias de publicidad, producciones comerciales, programas deportivos y empresas / clientes corporativos: ARD, arte, CNN, CNBC, DISCOVERY CHANNEL, EBU, euronews, France 24, Kabel1, NDR, ProSieben, SAT1, RTL, WARNER BROS. Alemania, 360º GEO Die Reportage, WDR, DHL, HUAWEI, Hewlett Packard, Microsoft, Intel, Deutsche Telekom, McKinsey, SANDOZ, Bayer-Healthcare, Novartis, Pfizer, REWE Group, Daimler, Volkswagen, Barcelona World Race, UEFA Champions League, Volvo Ocean Race, SEAT son solo algunos de los nombres para los que hemos producido contenido durante los últimos 10 años. 
Estamos familiarizados con las condiciones de rodaje y producción en España (trabajando en equipos multinacionales) y seguimos los procedimientos de trabajo requeridos y exigidos por los broadcasters de Estados Unidos y el norte de Europa. Nuestros equipos de cámara hablan español, inglés, catalán y alemán, convirtiéndonos en una red solida de profesionales amables y bien capacitados, equipos multilingües, productores y fixers locales. Todo esto, combinado con un material audiovisual de alta gama, gestión de producción alemana y más de 10 años de experiencia en la produccion audiovisual en España, Alemania y el resto del mundo, es nuestro rasgo distintivo.
Teléfono: (+34) 644263856
E-mail: info@popular-pictures.com
Estamos muy contentos de haber ganado varios premios y nominaciones con nuestro trabajo:​


Más publicaciones / Case Studies sobre nuestro trabajo: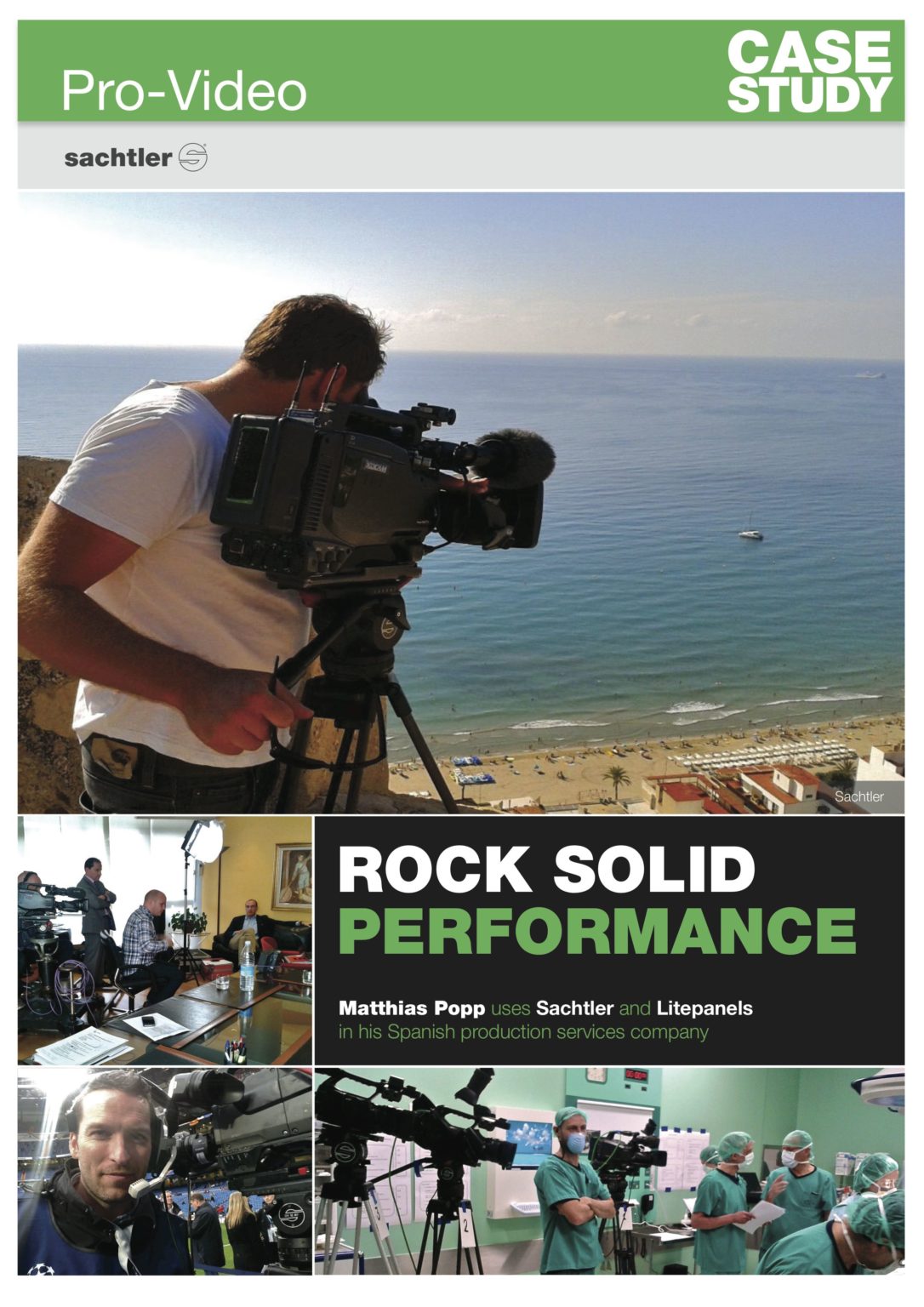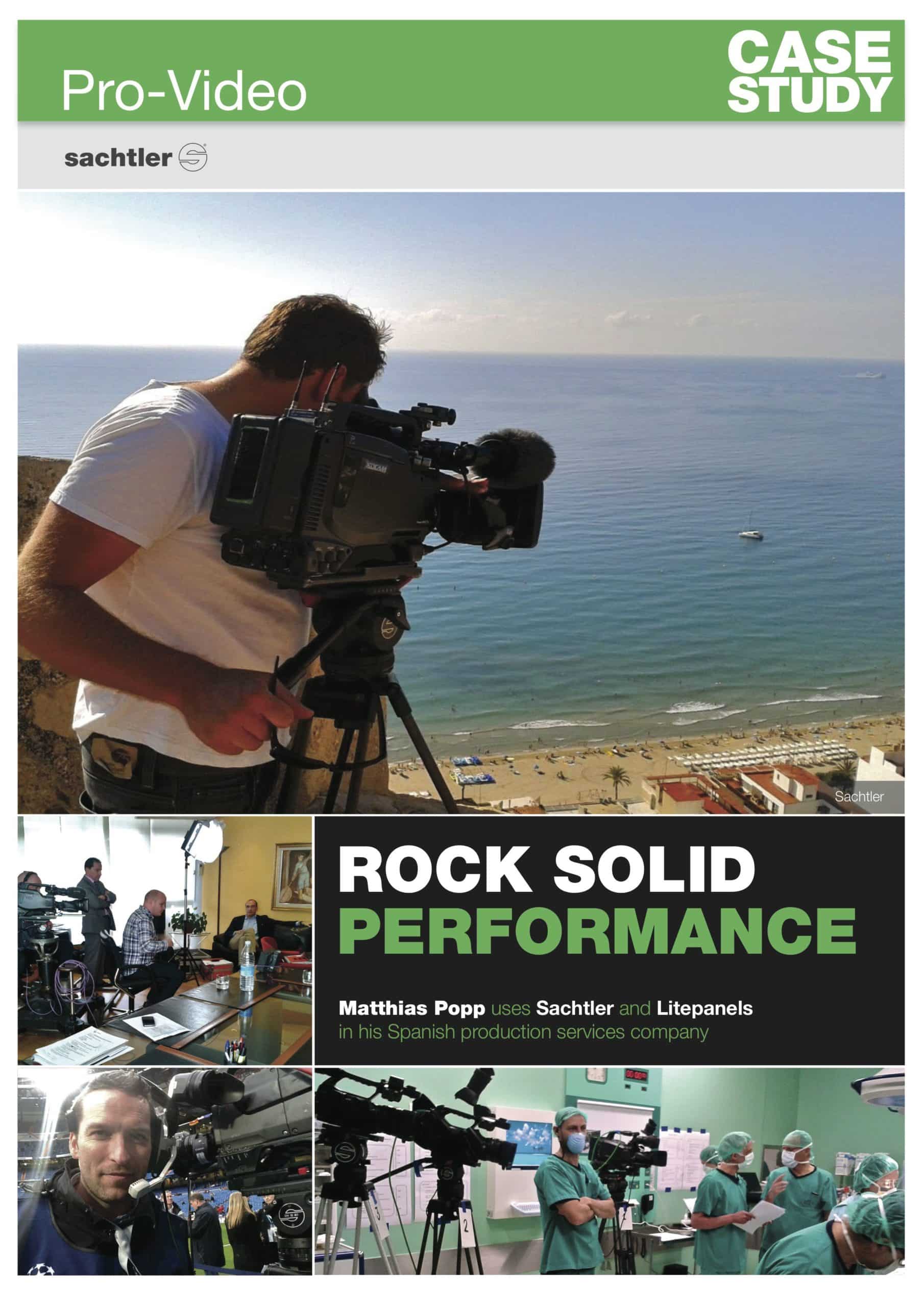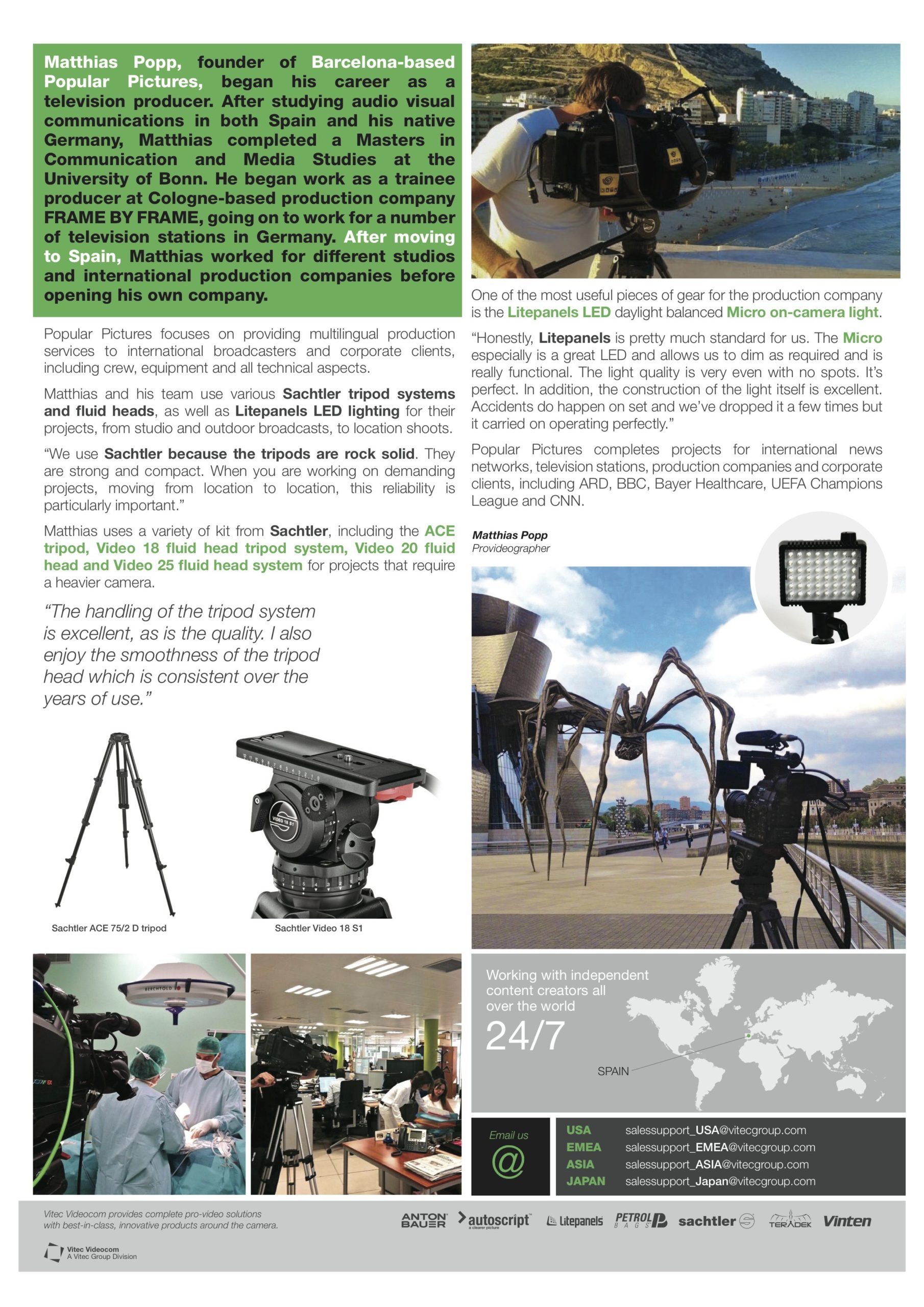 Matthias Popp
Head Producer & Founder
Studied and worked in Spain and Germany (Masters degree in Audiovisual Communication and Media), fully trilingual: Spanish – English – German, sound knowledge of practical camerawork, audio and lighting. EASA certified remote drone pilot (A1/A2/A3 and STS01+STS02). More than 15 years of professional work experience within the field of film and TV production as a producer and lighting cameraman.
Experienced in a wide range of different formats, from documentaries and news reports to sport events, commercial shoots and multi-camera live productions. German organisational skills and production expertise in the mediterranean.
Susana Rodriguez
Office Manager & FIXER
At home in both the office and the field, Susana is our Swiss army knife from Spain. Wether it's a critical shooting permit, official applications, last minute location management or the everyday production schedule – with her exceptional organizational skills and multi-tasking abilities she ensures a smooth running of your production in Spain. 
Before she started working in the film biz she gathered many years experience in the international tourism sector.
As an official tour guide for Spain she is your surest bet when it comes to unusual locations, excellent accommodation and reliable transportation.
Robert Zehner
Project Manager Germany / Spain
Started as a Radio Journalist in Palma de Mallorca and switched after to Germany´s Focus TV to work as a television producer. After he worked for German cable network PRO7. He has a profound knowledge of TV journalism, video production and web content. As a Project Manager he supports Popular Pictures with his excellent network of production resources and local knowledge in Spain and Germany.
Luciana Reynoso
Junior Producer SPAIN
Luciana is supporting our busy productions. She is doing research and helps in all stages of preproduction and production.
Gerard (English – Spanish), Sergi (English – German – Spanish), Pere (English – Spanish), Roger (English – Spanish), Javier (English – Spanish), Sergio (English – Spanish), Andres (English – Spanish), Ruben (English – Spanish), Alba (English – Spanish), Pablo (English – Spanish), David (English – Spanish), Oriol (English – Spanish), Jordi (English – Spanish), Matthias (English – German – Spanish);
Video editing, live mixing & post production magic...
Xavi (English – Spanish), Jan (English – Spanish), Matias (English – Spanish), Alex (English – Spanish) Adria (English – Spanish) Mar (English – Spanish);
Diego (English – Spanish), Ilan (English – Spanish), Efrem (English – Spanish), Nico (English – Spanish) Alex (English -Spanish), Pablo (English – Spanish), David (English – Spanish), Manuel (English – Spanish);
Camera Assistant & 1st ACs
Alba (English – Spanish), Albert (English – Spanish),  Sonia (English – Spanish), Luis (English – Spanish), Diego (English – Spanish), Ignacio (English – Spanish), David (English – Spanish);
Maria (English – Spanish), Miriam (English – Spanish), Aina (English – Spanish), Justina (English – German – Spanish), Carla (English – Spanish);
With our international partners we are your one stop shop for international productions
SPAIN - SERVICE PRODUCTION HEAD OFFICE EUROPE
Pasaje Borrell nº8
08005 Barcelona - SPAIN
PHONE:+34 644 263856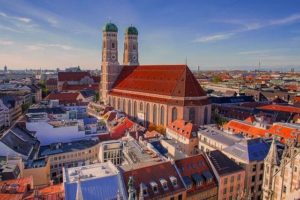 GERMANY - PRODUCTION UNIT:
CAMERA CREWS & LIVE-STREAMING
Mitterweg 4f
82211 Herrsching am Ammersee - GERMANY
Phone: +49 176 5631 6793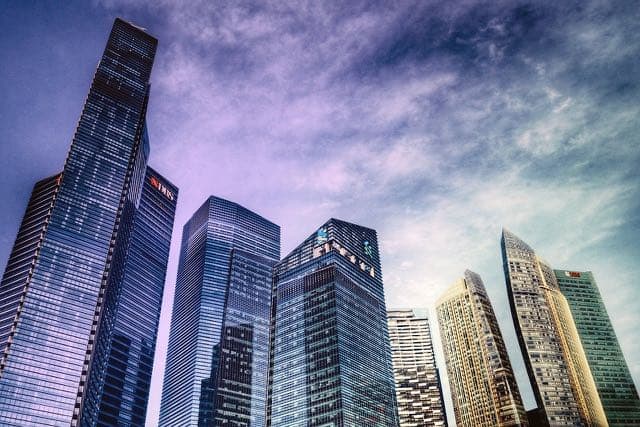 ASIA
20 Maxwell Road
069113 Singapore
Phone: +65 9855 9273