Spanien ist ein großartiges Land für Filmproduktionen und Dreharbeiten. Mit seinem attraktiven Klima (mit 320 Sonnen-Tagen pro Jahr eines der besten Europas), 5200 km Küstenlinie und einer wirklich beeindruckenden Vielfalt an Landschaften und Drehorten: von schneebedeckten Bergen bis hin zu Wüsten, von Wäldern bis hin zu tropischen Dschungel- und Strand-Locations, von maurischen Festungen über Kolonialbauten bis hin zu moderner Architektur. Unwahrscheinlich, dass Sie einen anderen Ort auf der Welt finden, der auf so kleinem Raum eine so große Anzahl unterschiedlicher Locations bietet, die gut und gerne 70% aller Orte auf unserem Planeten "doublen" können. Und dazu kommen noch steuerlich Förderungen, extrem drehfreundliches Wetter, sehr gutes Essen und eine sehr gastfreundschaftliche Kultur mit freundlichen Menschen. 
Service Produktion in Spanien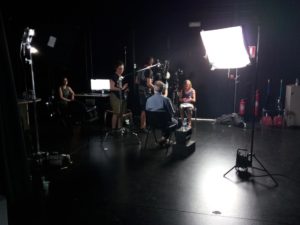 Camera-Crew
DoP & Lichtsetzendes Kamerateam Hochwertige Film-, Fernseh- und Videoproduktionen in Spanien erfordern erstklassige Kamera- und Produktionsteams!   Egal
Click here »
Mit mehr als 10 Jahren erfolgreicher Arbeit für Film- und Fernsehproduktionen in ganz Spanien verfügen wir über einen reichen Erfahrungsschatz in der Betreuung aller Arten von ausländischen Film- TV- und Corporate-Produktionen in Spanien (sowohl große wie auch kleine): preisgekrönte Spielfilme, Werbespots, Live-Übertragungen, TV-Dokumentationen und Unternehmensvideos…
Jahre Erfahrung im
Film & TV-Bereich
verschiedene Länder zum Drehen bereist
internationale Projekte realisiert
If you would need to summarize in just one sentence all what Popular Pictures stands for, it would be this: 
WE REALLY LIKE WHAT WE DO - AND SO DO OUR CLIENTS!